Environmental Business Journal® (EBJ), a business research publication which provides high value strategic business intelligence to the environmental industry, has honored ENFOS Inc. for a Business Achievement in the Small Firms category for 2018.
"In what is widely regarded as a stable market, a number of companies exceeded the norms of low single-digit growth with double-digit growth or ambitious ventures into new practice areas or technology development," said Grant Ferrier, president of Environmental Business International Inc. (EBI, Inc.), publisher of Environmental Business Journal.


ENFOS was recognized for a blockbuster year of growth in 2018. ENFOS reached an agreement with China's Nankai University to develop methods of environmental management and technical research and was invited to present at the 2018 International Big Data Expo in Guiyang by the city's mayor. Growth continued in Europe, as ENFOS expanded with the addition of Dow as a customer. Stateside, ENFOS took on another major U.S. customer with Koch Industries. In product development, ENFOS released the Beta version of its Remediation BI module, a significant step forward in remediation management technology.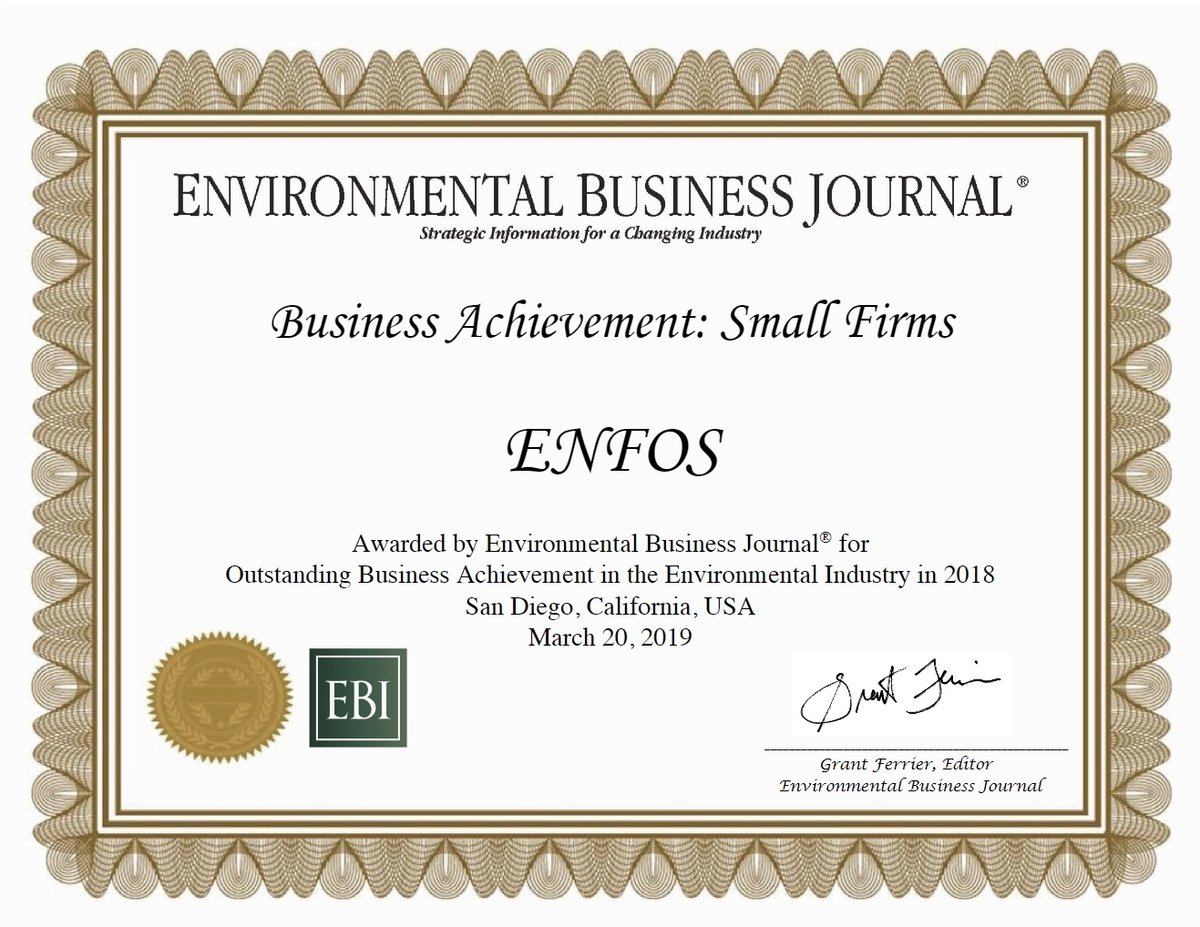 About EBI: Founded in 1988, Environmental Business International Inc. (San Diego, Calif.) is a research, publishing and consulting company that specializes in defining emerging markets and generating strategic market intelligence for companies, investors and policymakers. EBI publishes Environmental Business Journal® and Climate Change Business Journal®.. EBI also performs contract research for the government and private sector and founded the Environmental Industry Summit Series, four annual conferences event for executives in the environmental industry.
About ENFOS: ENFOS is a remediation management software platform that expertly manages all the complexities of remediation and asset decommissioning including reporting and disclosure requirements associated with ASC 410 and IFRS standards. ENFOS technology supports seemingly disparate data types and processes such as technical data and financial data to unlock the unknowns like root cause, cost drivers, and best practices.
The company's solution integrates easily with customers' ERP systems and legacy applications, providing for seamless real-time knowledge. Customers include DLA, BP, Total, Kinder Morgan, ConocoPhillips, Celanese, 7-Eleven, Canadian National Railway, and The RACER Trust. ENFOS, Inc. is headquartered in San Mateo, California, with offices in the Chicago area, and China. For more information contact us or call 1 (888) 838-7767.

Curious about how to supercharge the performance of your environmental remediation portfolio? Check out our upcoming conference - The ENFOS Experience 2019. We're bringing the nation's top remediation professionals together for 2 days of sharing expertise. See you there?