In this article, you'll learn:
Best practices to manage your environmental liability portfolio
Tips to reduce low value-added tasks
Ways to optimize your remediation team's performance
---
"Let me get this right, 10 years ago we had $2B of environmental liabilities on our balance sheet, today we still have a $2B liability, and over those 10 years we have spent $500M per year ($5B). What am I missing?"
Does this sound familiar to you?
Managing a remediation portfolio is far from easy. There's a reason for that: the most common environmental liability management methods still in use today were developed in a time before modern cloud technology changed the way we work.

These methods depend heavily on individual performance and are prone to data silos - all of which causes major variability in performance. What's more, the underlying thread of disparate knowledge throughout these frameworks results in a state of "perpetual liability", where remediation reserve balances can stay flat or even grow through time. Oftentimes, without any leading indicators, alerts, or data insights.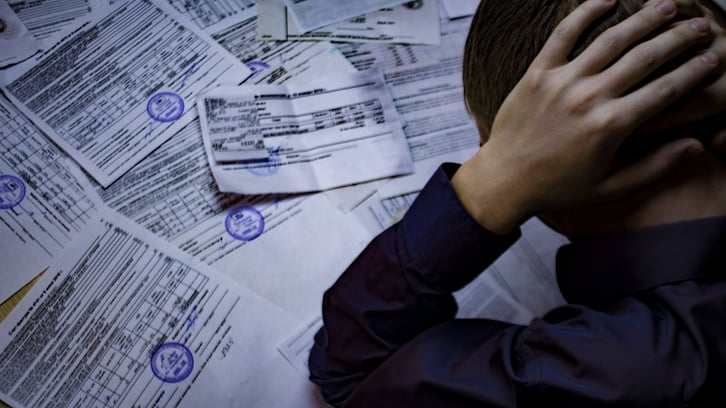 So! We've created 6 proven ways to boost your productivity in environmental remediation project management and exploit every possible efficiency. These operational principles are used by some of the top remediation teams in the world to maximize performance across their entire portfolio.
1.Institutionalizing your knowledge to scale-up success:
Performance variability has always been a way of life in the remediation industry.
Success depends on a massive range of variables, including management methodology, personnel, regulations, consultants, remedial approach, contaminants or hydrogeology - the list goes on.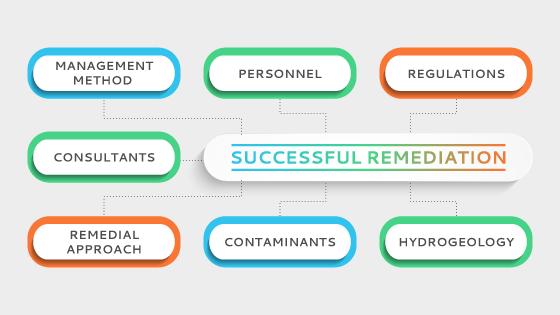 But whatever the case may be, chances are that you have had successful projects. If you could replicate your successes and eliminate your failures, chances are that your performance would improve substantially.
To scale-up, you must have the ability to identify and institutionalize knowledge.
What you can do:
The more your projects have been cohesively documented, the more you can use them to guide your decision-making.
A lush, easily searchable record of all project data (lab, financial, consultant) can allow you to see old knowledge in a new light. Every decision made can help serve a living compendium of knowledge to best inform your next project.
Consider documenting the below information for any given remediation site:
Basic Site Information: This includes site name, location, type, status, etc.
Personnel: You should consider documenting: consultants, PMs, regulators, and regional managers, etc. that are relevant to this site.
Site-Specific Documentation: Create folders or links to your documents such as H&S plans, risk assessments, regulatory correspondence backups, and site characterizations. You'll also need to think about version control while organizing these documents.
Points of Interest: Store points of interest like schools, hospitals, federal well data, etc. along with location, name, and distance information in an unified format.
Lifecycle Forecasting and Spend: Initial estimates, reforecasts, change reasons, trigger events, balances, commitments, costs.
Environmental Data: Sample points, field data, lab data, standards.
Additional Information: Risks, issues tracking, agreements, etc.
Even better? To store all of the above in a well-organized cloud location which allows 24-7 access.
2. Set alerts to free up mental bandwidth
Anticipatory alert systems are useful for when things aren't perfectly following the plan - that is to say, they're almost always useful.
Being able to provide your team with early warnings of high-risk conditions or potential project-impacting changes can make all the difference on the bottom line. Preparation isn't everything - how fast you react can play a big part in mitigating unexpected problems.
What you can do:
Make sure your management framework provides alerts, notifications, and dashboards (hey, just like ENFOS). Carve out some time to sit down and think about a list of alerts that could help. Some examples are: trigger events, report deliverables, sample events, etc. This can help your team catch issues before they become bigger problems like impacted receptors, accrual increases, missed deadlines, or blown budgets.
3. Manage with a data-in-context mindset:
Everything you do to remediate a site or manage a large program is related in one way or another.
Imagine that you manage your sampling data in spreadsheets, manage projects in Microsoft Office documents, manage compliance violations in an organizational shared checklist, and manage finances in your ERP. That's a lot of different systems for one project.
This becomes an issue when the sampling network impacts the budget, the presence of a receptor impacts the reserve forecast, and the compliance violation impacts the expenditures. With disparate datasets, you may not have the luxury of such a bird's-eye view.
It's incredibly important to bring together your different datasets. In the same way that bringing data points onto the same plane can reveal significant patterns, so too can bringing your data silos together reveal cost-saving and forecasting opportunities.
What you can do:
Empower your people to leverage the interrelationships of seemingly-disparate data types—lab data and cost to closure, risk data, reserve balance, and so on.
In ENFOS, your datasets are joined and transformed so your teams can perform analytics and data visualizations using your BI platform or ours. ENFOS datasets allow you to combine content from management information, site and project information, financial information, and technical information.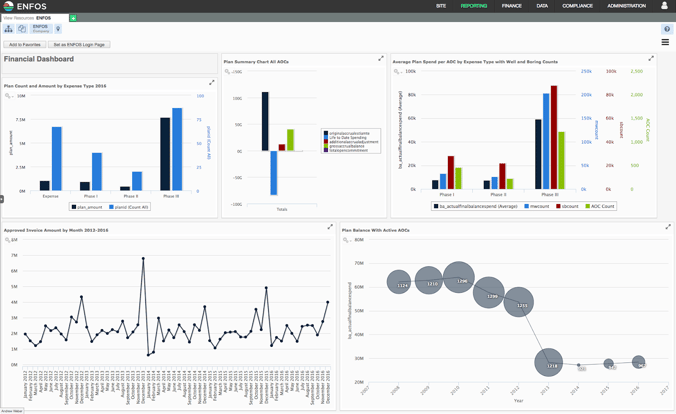 4. Eliminate low-value-added costs:
In our recent survey on remediation management pain points, 78% of director-level professionals considered low-value-added tasks like data administration to be a significant source of pain - with 35% of that subset rating them as "most painful".
This makes a whole lot of sense when you consider that studies have shown that up to 60% of total remediation costs are attributed to information management. This means activities such as project planning/management, lifecycle estimation, field/laboratory analysis, reporting, and financial transactions just to name a few. The hours spent conducting those activities are many - and they're very often more bloated than they need to be.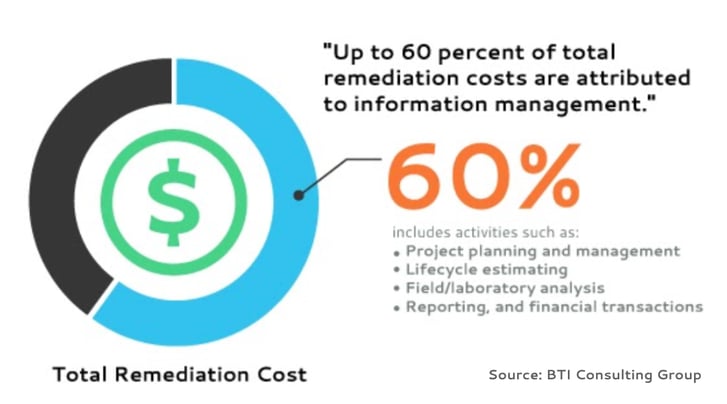 What you can do:
Start automating the business processes that create mundane and grindy data entry, number crunching, rollups, and reporting functions to eliminate those low-value-added tasks from needing to be manual work. Each individual improvement may seem small, but when replicated on many projects over many years, the savings are huge.
Read more: Could the Answers to These Questions be Costing You $3M?
5. Integrate processes to streamline workflows:
30 years ago, remediation professionals were stamping physical papers - now, they're able to reap the power of modern technological tools.
Seamless workflow can only take place when core processes are integrated. If the reserve management process is directly connected to the purchasing process and purchasing is directly hooked into the invoicing process - you've got a speedy, agile workflow that remediation professionals of the past could only dream of.
What you can do:
See if ENFOS is a good fit for your organization. Our remediation-specific management suite turns disjointed, loosely-joined processes into a sleek, unified set of functions on a common platform.
6. Leverage digital to turn communication into asset:
When millions of dollars of transactions meet a million email conversations…things are bound to slip through the cracks.
A successful remediation project requires a tremendous amount of communication. Purchase orders, work orders, change orders, lab data, financial records and more - these transactions all whip throughout internal business functions as well as the desks of various stakeholders, vendors, consultants, and more.
In today's tech-heavy environment, almost all communications are digital - but digital capability is an ever-expanding spectrum. How do you know when you've slid into the area of "wasting opportunity"?
What you can do:
Leverage the "digital" in "digital communications". Don't just let your day-to-day email conversations stay put in your local computer. Start storing decisions, meeting minutes, and strategy slides on cloud storage tools like Sharepoint or Google Drive. But storing and exchanging files simply isn't enough to mine the gold in those communications. In remediation project management, you need to also think about aspects like data retrieval and analysis.
Your organization will need a standard document repository in place to unlock the communication-as-an-asset opportunity. If your team doesn't have a single standardized folder repository, consider being the one who starts this discussion. Your team will thank you in the future for bringing up such a meaningful discussion. Here is an example document repository structure for you to brainstorm with: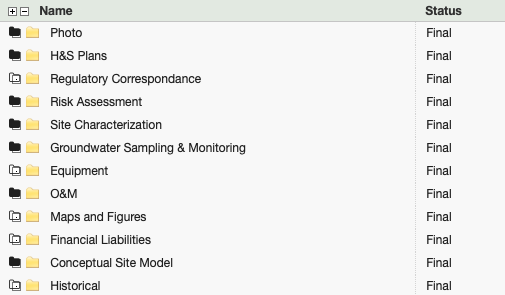 And that's a wrap! We hope these tips have inspired you to take another look at areas where your management frameworks could be leaking productivity.
ENFOS is a project management software designed ONLY for environmental remediation. Companies that use ENFOS have seen big performance boost to their program, with an ROI greater than 800%.
Curious how it works? Schedule a free 15-minute demo with one of our product specialists now.

Not ready to chat yet? Check out more on our Solutions page or download our featured whitepaper: